While some secondees return to the corporate world, 70% on the ProInspire programme stayed at their chosen charity. (Photograph: Cultura Creative/Alamy)
Charity secondments have become a popular way for private-sector employees to share skills and explore interests with the safety net of a job to return to. But one US organisation hopes to take the secondment model a step further and nurture the next generation of charity leaders.
ProInspire facilitates year-long fellowships for private-sector professionals to work with nonprofits in the San Francisco Bay Area and Washington DC region. Since its launch in 2009, ProInspire says it has placed more than 120 fellows in 60 local and national organisations including Community Housing Partnership,Global Giving and Meals on Wheels America.
While some ProInspire fellows return to their job, more than 70% of fellows remain with their charity at the end of their placement – most for at least one year.
ProInspire founder Monisha Kapila (recently named by the Chronicle of Philanthropy as one of its 40 under 40 influential nonprofit innovators) set up the matching scheme in response to what she saw was a lack of opportunity for private-sector professionals to easily make the transition to a nonprofit career.
"A lot of people want to use their business skills for good, and nonprofits need commercial skills," says Kapila. "We look at how to better connect this supply and demand."
Fellows typically have between two and five years of business experience and come from a wide range of employers, including Accenture, Google, JP Morgan and Zenith Media.
Selecting the best
Applicants go through a competitive, competency-based selection process (less than 4% are accepted), then the charity interviews finalists to select their ideal secondee. Fellowship roles can include communications, fundraising, finance, project management and technology.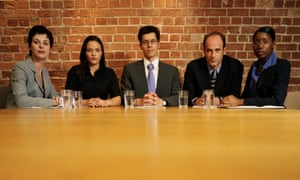 Isayas Theodros, a 2013 ProInspire fellow, swapped his job as a senior auditor at Deloitte's Costa Mesa offices in California for the role of portfolio manager at Washington-based Partners for the Common Good (PCG), a community development funding organisation. After two-and-half years in the private sector, he was looking for a sense of purpose in his work. The fellowship involved managing borrower-lender relations and loan portfolios.
"By far, the best part of my job was assisting real people who longed to make a tangible difference in their respective communities," says Theodros.Inspired by the experience, he remained as portfolio manager with PCG for a further year.The nonprofit host covers the fellowship cost – currently $49,000 (£34,000) in the San Francisco Bay Area and $46,500 in Washington DC. The host also pays a $7,000 fee to ProInspire for fellowship training, coaching and mentoring.
Filling skills gaps
Neha Patel, associate director of strategic planning and analysis at
FHI 360
, a Washington-based health and education nonprofit, says secondments help to widen the recruitment pool: "Nonprofits do need the heart but we also need the business sense, the management approach and the expertise that comes from the private sector."A
recent survey
of 300 heads of digital in UK charities found that 95% had no HR strategy for improving digital skills of their employees. So could investing in secondments now pay long-term dividends?
Skilling up the sector is the focus of UK-based
On Purpose
, which matches business professionals with charities, typically for two six-month placements. Hosts pay an annual salary of around £21,000 and a one-off fee to On Purpose of between £5,500 and £11,000, depending on size and legal structure.For a £1,000 (plus VAT) brokerage fee, the Whitehall and Industry Group's
Charity Next
will place employees on the Civil Service's fast stream graduate programme on year-long secondments with charities such as
Leonard Cheshire
and
Place2Be
.
John Lewis Partnership
employees can apply for a charity secondment of up to six months
via the firm's Golden Jubilee Trust
.
Nurturing volunteering
While most secondees on these schemes will return to their previous jobs, many remain involved in the voluntary sector. Benet Northcote, director of corporate responsibility at John Lewis Partnership, says: "Seventy-five per cent of our secondees continue to volunteer for the [host] organisation, or another one."
Elle Bradley-Cox spent four days a week over four months on secondment from her role as PR and marketing co-ordinator at John Lewis Sheffield to the learning disability charity Work Ltd. During her stint, which gained her a Business in the Community award, she developed a marketing strategy, PR plan and branding for the charity. "I also helped them launch their own social media presence which allowed the charity to better promote the great work they do," says Bradley-Cox. "I was thrilled to be awarded the [BITC] award … not least because it helped to give the charity even greater exposure."